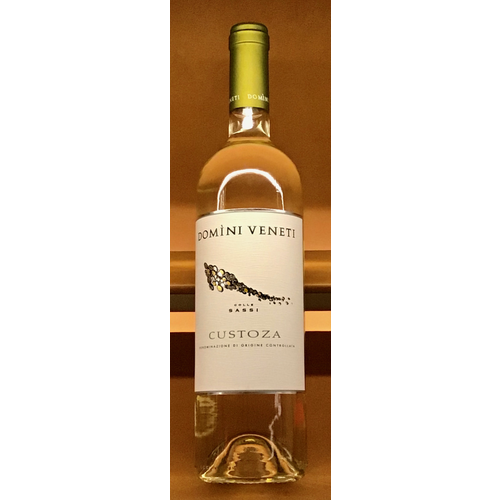 DOMINI VENETI CUSTOZA BIANCO 2017
"Several white-berry vines are cultivated in the area to the south of Lake Garda. Dosed with wisdom, the grapes give rise to Custoza DOC, a dry wine that has been appreciated in the Garda area since the sixteenth century.



It has a straw-yellow colour,

CONTRA SOARDA MARZEMINO NERO GAGGION 2013
"Mirco and Gloria Gottardi established Contra' Soarda in 2002 with the desire to create a deeper tie to their native land. Contra' Soarda, which means "hamlet on the slope" grows vines and olive trees with utmost respect for the environment. The 12 hectar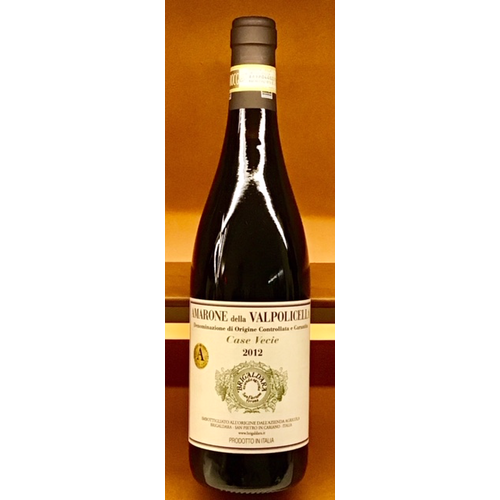 BRIGALDARA AMARONE DELLA VALPOLICELLA 'CASE VECIE' 2012
"The "La Brigaldara" winery is located outside the village of San Floriano in the Valpolicella area to the north of the city of Verona in Northeastern Italy. It perches on a slope at the mouth of the Marano Valley, one of the four valleys which make up th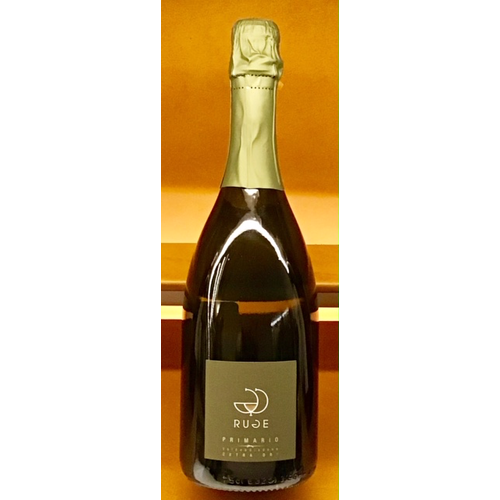 RUGE PROSECCO DI VALDOBBIADENE PRIMARIO NV
"100% Glera. Hand harvested in late September/early October, fermented in stainless steel, it spends 3 months on the lees. The wine is then turned into sparkling with a prolonged stay in Charmat method tanks, approximately 40 days. 700 cases produced."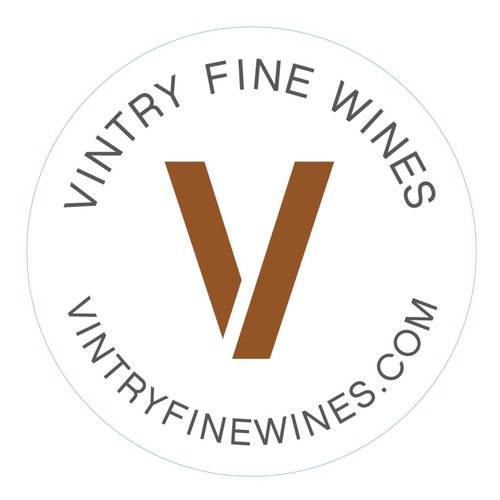 TENUTA SANTA MARIA 'DECIMA AUREA' 2008
"this single-vineyard merlot obtains its unique character through the selection of three clones, low-yield and high-density cultivation at 9,500 vines per hectare. The vinification is carried out through a partial appassimento of the grapes with further r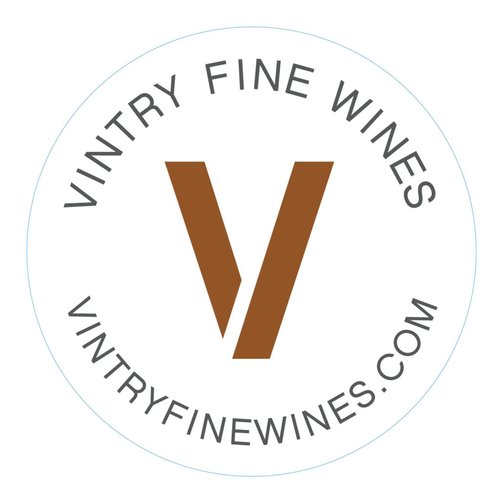 GIUSEPPE QUINTARELLI RECIOTO DELLA VALPOLICELLA CLASSICO RISERVA 'IE DOSSO' 1977
"It is impossible to speak about Quintarelli without superlatives. The name itself stands for so much: the family, the wines, a style, a tradition, a way of doing things. After all the time, effort, patience, and care that go into the making of a bottle o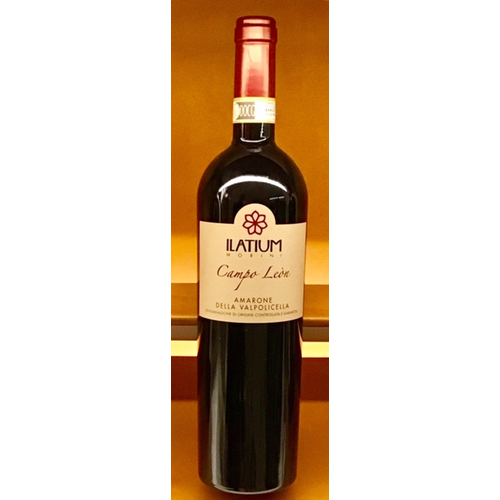 LATIUM MORINI AMARONE DELLA VALPOLICELLA 'CAMPO LEON' 2013
89 Points - The Wine Spectator: "A ripe style, offering a creamy palate of black cherry coulis and black raspberry fruit flavors, with tea leaf and mocha notes. Taut tannins firm the finish. Best after 2020. 2,400 cases made."
–AN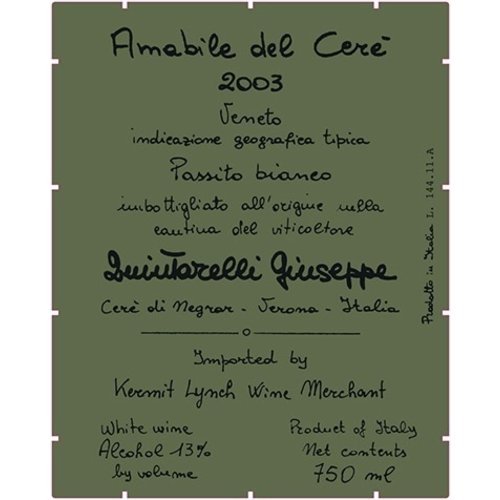 GIUSEPPE QUINTARELLI PASSITO BIANCO AMABILE DEL CERE 'BANDITO' 2003 375ML
"The rarest of all the Quintarelli wines—the current vintage is 2003 and the one before was 1990. It is named after a lost barrel that was hidden under food stores and undiscovered during a Nazi raid of the property during WWII. The barrel was discovered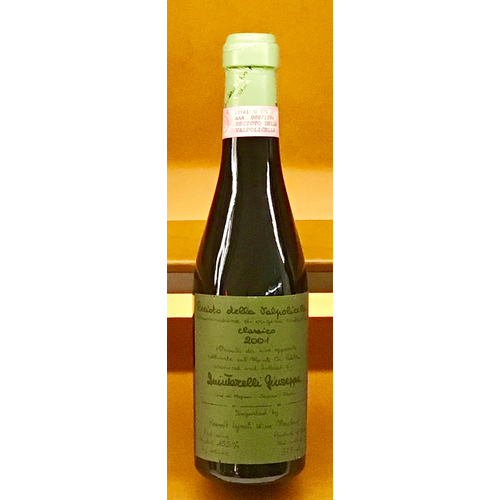 GIUSEPPE QUINTARELLI RECIOTO DELLA VALPOLICELLA CLASSICO 2001 375ML
95+ Points - Antonio Galloni's Vinous: "The 2001 Recioto della Valpolicella Classico is one of the more vintages of the Recioto, although in subsequent tastings the wine has begun to blossom more fully. Silky, layered and exceptionally polished on the pal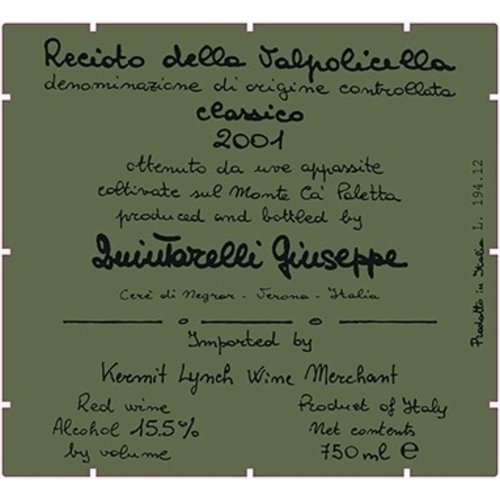 GIUSEPPE QUINTARELLI RECIOTO DELLA VALPOLICELLA CLASSICO 1997
94 Points - Antonio Galloni - The Wine Advocate: "The 1997 Recioto della Valpolicella Classico is a gorgeous, refined wine with layers of sweet, perfumed fruit that flow gracefully from its medium-bodied frame. The 1997 Recioto isn't quite as extroverted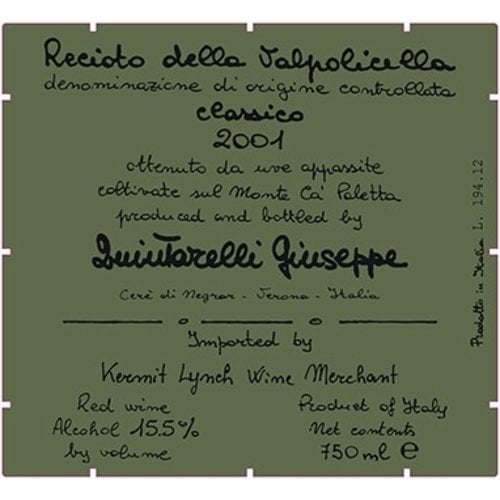 GIUSEPPE QUINTARELLI RECIOTO DELLA VALPOLICELLA CLASSICO 1995 375ML
97 Points - Antonio Galloni - The Wine Advocate: "There's not too much I can say about the 1995 Recioto other than it is a stunning, unforgettable wine. It explodes from the glass with an array of heady, exotic black cherries, graphite, roasted coffee bea